2021 Annual Joint Factoring Program with IFA, IFA Northeast and IFA Southeast, and IFA Southern California
Tuesday, March 9, 2021 (2:00 PM - 5:00 PM) (EST)
Description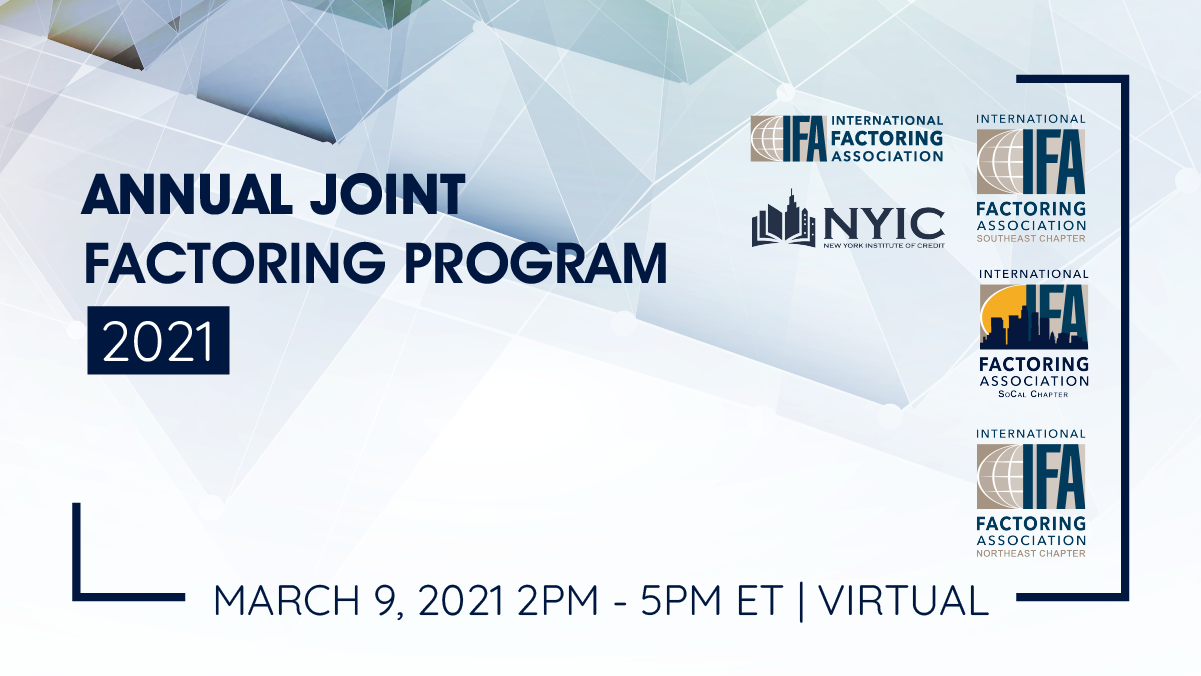 New York Institute of Credit and the International Factoring Association (IFA), including the Northeast, Southeast, and Southern California chapters are holding an annual joint factoring program for our Members and followers.
The two-panel virtual webinar, followed by a virtual cocktail party, will cover important and timely information for lenders and legal professionals for 2021.
Panel 1: Legal
This panel will cover factor risk, setting up the strongest litigation position, post-funding due diligence, and pre-litigation protections upon default.
Moderator, Gary M. Krasna, P.A., Owner, Krasna Law
Steven Kurtz, Partner, Levinson Arshonsky & Kurtz, LLP
Bruce Loren, Partner, Loren & Kean Law
Panel 2: Lending
This panel will cover participations, over advances, lender finance, purchase order finance, and lending best practices.
Moderator, Richard Simon, Member, Mandelbaum Salsburg
Raffi Azadian, CEO, Change Capital
Louis Barone, SVP, Head of Domestic C&I Lending, BHI
Harvey Friedman, Chief Operating Officer, Lenders Funding, LLC
Terry Keating, President, US Asset Based Finance, Accord Financial
Paul Schuldiner, Executive Vice President, Rosenthal & Rosenthal, Inc.
Program Agenda
2:00-3:00 PM EST - Panel 1: Legal
3:00-4:00 PM EST - Panel 2: Lending
4:00-5:00 PM EST - Virtual Networking Happy Hour
Sponsors
Master Sponsor-Member
Panel Sponsor
Virtual Cocktail Hour Sponsor
Pricing
$45 NYIC Members
$45 IFA Members
$75 Non-Members
Registration for this event is now closed.
Virtual

Tuesday, March 9, 2021 (2:00 PM - 5:00 PM) (EST)