Annual AIRA & NYIC Virtual Program
Thursday, January 19, 2023 (11:00 AM - 1:30 PM) (EST)
Description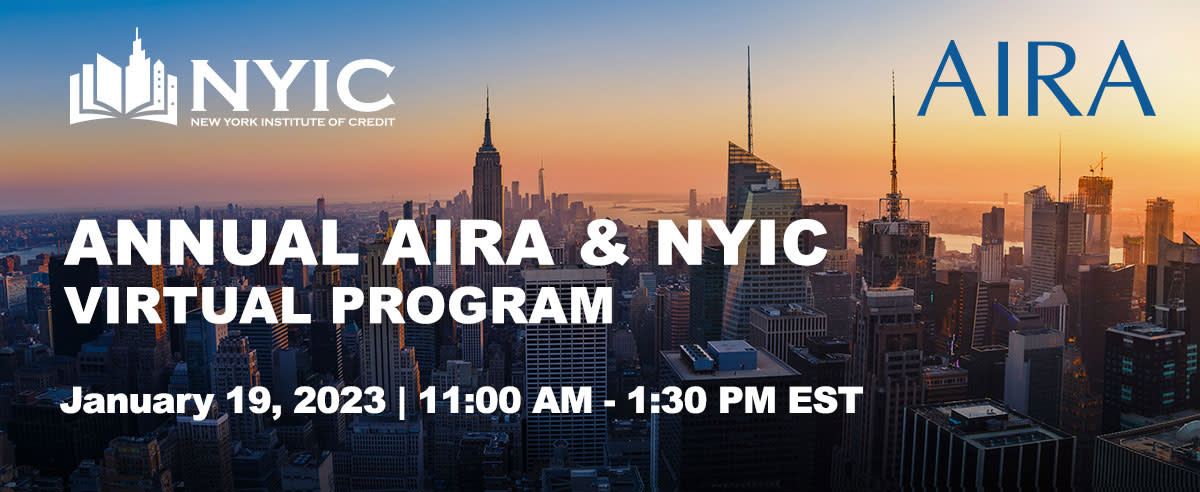 This is a Virtual Event
Gain financial and market insights with the New York Institute of Credit and AIRA on January 19, 2023. NYIC and AIRA present two panels of finance experts to help you navigate the current economic landscape, followed by networking. Earn 2.0 CPE/CIRA.
Agenda
11:00 AM - Login/Networking
11:10 AM - Panel 1
12:00 PM - Panel 2
12:50 PM - Networking
Concludes by 1:30 PM.
Panel 1 | I've Been Appointed to Take Control of a Crypto Enterprise – What Do I Need to Know?
Most of us are well familiar with the mode of operations, asset tracking, and controls for most physical businesses whether they are retailers, wholesalers, manufacturers, or finance organizations. But what about understanding the operations and issues surrounding the industries developing around the digital world? The objective of this panel of experts on matters involving the digital space is to assist you in furthering your understanding of what you need to know if you suddenly find yourself responsible for one of these digital entities.
Panel:
Moderator, Kenneth Ehrler, Managing Director, M3 Partners, Financial advisor in multiple crypto bankruptcies and restructurings including Celsius Network LLC and BlockFi Inc
Jason A. Nagi, Partner, Offit Kurman, Distressed Real Estate Chair and Head of Offit Kurman's FinTech Practice
Erik B. Weinick, Partner, Otterbourg, US Secret Service NY/NJ Cyber Fraud Task Force Steering Committee
Panel 2 | Litigation Funding
Panel:
Moderator, Sheryl Giugliano, Partner, Ruskin Moscou Faltischek
Charlie Campbell, Director, Restructuring and Dispute Resolution Services, CohnReznick LLP
Joel E. Cohen, Managing Director & New York Office Leader – Disputes, Claims, & Investigation, Stout
Connor Murphy, Director, Burford Capital
____________________________________________________________________________
Interested in Sponsorship? Email skuhns@instituteofcredit.org to select one of the following:
Master Sponsor (Exclusive) $350
2 complimentary passes to event.
Logo on email promotion and event website page.
Social media recognition.
Media Sponsor (Unlimited) $200
Logo on email promotion and event website page.
Social media recognition.
Pricing
$25 NYIC Members
$25 AIRA Members
$50 Non-Members
Virtual
Virtual Details will be sent upon registration.
Thursday, January 19, 2023 (11:00 AM - 1:30 PM) (EST)